Hello there,
I am back grovelling for more attention, lol. However, it is not solely for my own benefit but perhaps yours, too. I don't know if I've told you the story of how I got my various mental illnesses diagnosed, but long story short, I thought my executive dysfunction was a sign of autism. I went to a neuropsych and it turned out that my inability to remember things without writing them down, etc. were symptoms of generalised anxiety disorder and severe depression. I found all of this out before moving to England to do a masters programme at a severely overpriced institution.
I was on my medication and was note-taking obsessively, mainly due to the fact that I was doing lots and lots of reading and research. Once I graduated, I kept taking my meds but my note-taking fell by the wayside. As a result, I can remember many obscure and ultimately useless facts, but cannot remember my favourite films, songs, books, moments, unless I consult my journals. Which I hadn't been writing in.
In any case, I've resolved to write things down again. And here is a collection of many notable (according to my personal rubric) things I've consumed or did or whatever in January. I'm trying to be less wordy, but that's obviously not going to happen right now. But maybe soon.
Mysterious Object at Noon (2000)
Apichatpong Weerasethakul's directorial debut. It's an interweaving of fictional narratives supplied by Thai locals he interviews, following an "exquisite corpse" format. Beyond the creativity of this, I was absolutely floored by the strong national identity just casually inherent and apparent in both the people and the place Mysterious Object at Noon documents. It made me wonder what the Philippines could have been like without international intervention, without colonisation, without prescribed "development" outside of what could have been our natural trajectory.
There was a sense of familiarity in seeing Thailand plainly, as we are such similar nations, but also it felt like looking to a future that could have been ours, but isn't.
I can't explain the sensation that ran through my body, which I recognised later on as grief and longing. There are no big action moments in this film, but watching it has set off an incredible wave of feelings within me. I don't quite know what to do with them just yet.
Double Indemnity (1944)
First of all, I love Billy Wilder. It must have been such a treat and such a riot seeing this when it came out. Very elaborate insurance fraud plan, very satisfying twist and turns. P.S. I lost my shit when he said that their huge gaff cost $30,000.
Holiday (1938)
I didn't get it when I first saw it, but now I do. Katharine Hepburn was infamously regarded as "box office poison", but she is, in my opinion, perfect.
The Traitors UK
The mechanics of the game are quite a stupid and convoluted, but the reactions of players were quite insane, lol. I started watching it because a lot of Survivor fans had said it reminded them of the earlier seasons, and given that horrible last one… Well, this really filled that void. If you don't mind slogging through the game itself, the round table discussions and interpersonal relationships (very intense, and formed in two weeks!), or the divisive music choices, this is quite an entertaining thing to watch, preferably with another Survivor fan or another glutton for other people's drama.
The Awful Truth (1937)
So, one of my goals this year was to see one film a week, at least, on the Criterion Channel, because I often forget I have it and am only reminded when I see myself billed for it every month. The Awful Truth is such a satisfying little romp, with a conservative run time and a fabulous little dog, Mr. Smith.
I read a review on Letterboxd that said they couldn't stop seeing Greta Gerwig in Irene Dunne's expression, and now I can't either.
A Streetcar Named Desire at Almeida Theatre
Okay, so securing these tickets is an event in itself. I'd been checking the returns queue sporadically since December, as the production had sold out pretty much instantly. Recently, I had been checking at least twice a day (at 8 a.m. and 5 p.m.), and managed to snag two tickets to a matinee performance. I had rightly thought the scarcity of tickets was mostly due to Paul Mescal playing Stanley Kowalski. The performance I went to was overwhelmingly female, who were aged between their teens and late 30s.
Early reviews had been generally positive, but after the press performance a few night ago, many have argued that while it was a decent staging, it was not particularly new or groundbreaking. As someone who has never seen it, I thought it was quite brilliant. And not only because Paul Mescal changes costume onstage several times, though I understand why someone who knew me might think that. Patsy Ferran was amazing. It's hard to believe she only stepped into the role a month before they opened.
As we were exiting the theatre, we overheard a man accompanying two women: "I couldn't sit between you two any longer! Every time he came onscreen, [squealing noises]. We are not going to look for the Stage Door."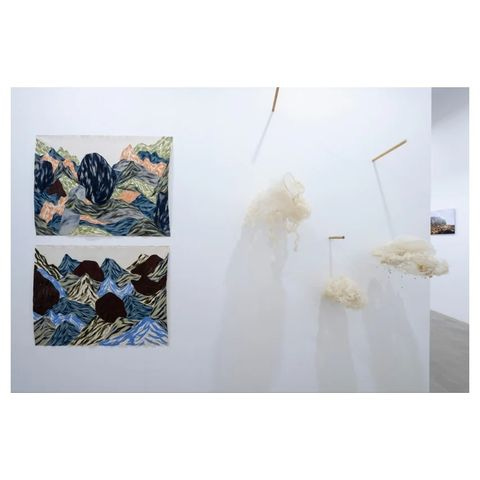 S.E.A. Focus Singapore
Very chuffed to have been selected to make new work for this years S.E.A. Focus in Singapore. Although I have had a few shows in the Philippines, I haven't shown much of it outside it, so having my paintings in Singapore for the first time was a big milestone. MONO8 Gallery's show was made up of work by an all-female slate: Issay Rodriguez, Kelli Maeshiro, Veronica Lazo, and me. I wish I had been there, but it was also quite nice to see support from friends and family through Instagram posts and congratulations.
Beads of Joy by James Watts
So, I test knitted one of my favourite jumpers ever: the Beads of Joy Sweater! I used Noro Kureopata yarn, in just one colour and it lent beautifully to the modular jumper James designed. I wore it to work after blocking, very excitedly. I received compliments from the café staff over at Jolene in Redchurch Street, so I gave them the pattern name and the yarn I used, and when I came back for an afternoon coffee, they gave it to me for free. 🥺
If you were looking for a fun, easy knit, this is the one for you! All you really need to do are how to pick up stitches, make increases and decreases. I know it sounds too good to be true, but even as an obsessive knitter, I found this really fun, easy, intuitive, and really quick to knit up. Very high impact on low-ish effort.
J.Hannah Glace Ring I in Silver and Aquamarine
Anyway, I'm getting married, at some point, to my favourite person. How lucky, how absolutely special.
With love and warmth,
Carina